I miei libri, le mie riviste

Avere fra le mani fotografie sotto forma di libro fotografico o di rivista è un piacere sia fisico che mentale tutto da provare. Sfogliare con calma, guardare, lasciarsi andare ai pensieri, prendere ispirazione. Appoggiare il libro su un tavolino, sorseggiare un caffè e riprenderlo in mano nuovamente…sfogliandone le pagine lentamente…

To have photographs in your hands in the form of a photo book or a magazine is a physical and mental pleasure worthwhile to experience. Leaf through them calmly, look, let yourself go to your thoughts, let yourself be inspired. Place the book on a table, sip a cup of coffee and pick it up in your hands again…leafing  slowly through the pages…

In questa pagina trovate i miei lavori con relativi link per dare un'occhiata e se volete per acqistarli.
In this page you'll find my works with the link to give a look and, if you like to buy them.
---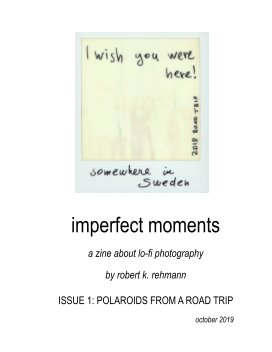 imperfect moments
Una zine di Polaroid scattate durante un road trip dall'Italia alla Norvegia e ritorno. Non è un diario di viaggio, sono sensazioni, giorno per giorno. Fotografia puramente a bassa fedeltà.
A zine with Polaroid photos taken during  a roadtrip from Italy to Norway and back. Not a diary, these are feelings, day by day. It's pure low-fi photography.
Potete vederla e acquistarla a questo indirizzo:
You can preview and purchase it here:
https://it.blurb.com/b/9709072-imperfect-moments
Disponibile anche come e-book, available as e-book here: https://it.blurb.com/ebooks/708185-imperfect-moments
---
those days
il libro, the book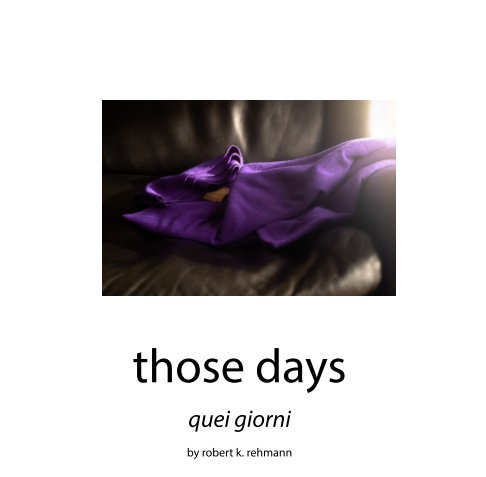 In Italia, il mio paese, agli inizi del 2020  abbiamo sperimentato un lungo lockdown nel tentativo di combattere covid-19.
E' stata un esperienza dura, con momenti di paura alternati a momenti di speranza. Fotografie e pensieri da "quei giorni" sono racchiusi in questo libro.
In Italy, my country, in the beginning of  2020  we experienced a long lockdown in the attempt  to fight against covid-19.

It was a hard experience, with moments of fear alternating with moments of hope. Photographs and thoughts from "those days" are enclosed in this book.

Stampato su carta Mohawk Superfine Eggshell è disponibile per visione ed acquisto a questo indirizzo, printed on Mohawk Superfine Eggshell paper is available for preview and purchase here: https://it.blurb.com/b/10282961

"those days" in una più economica versione rivista, sempre stampata su carta di qualità è disponibile qui:
https://it.blurb.com/b/10303406-those-days
"those days" in a  more economic  zine version, always printed on high quality paper is available here: